---
Upcoming Events and News at Mount Olivet UMC
Fish Fry Friday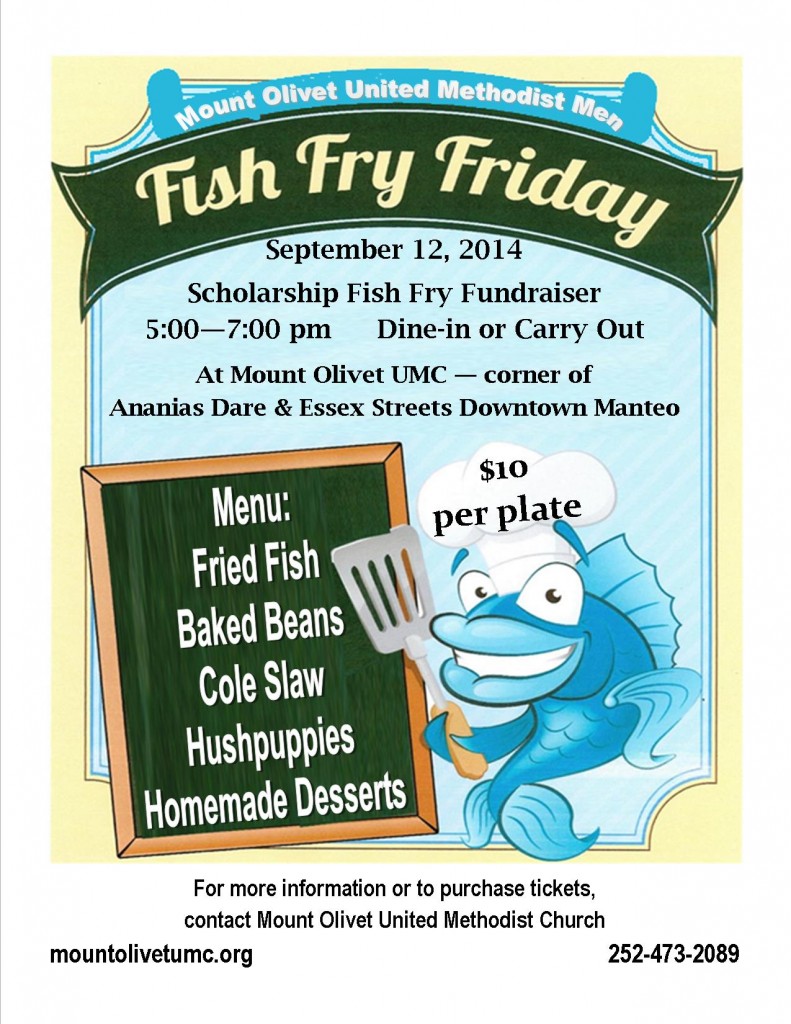 Posted August 13, 2014
---
Missions Opportunities
The Mobile Food Bank will meet each third Wednesday from 1:30 – 4:00 pm at Manteo Baptist Church Parking Lot. All are welcome to come and lend a helping hand. For more information, contact Bob & Angela Noffsinger at 252-473-3814 or abnoffsinger@embarqmail.com.
  Posted August 10, 2014
---
Preschool Openings
Applications Accepted! Mount Olivet United Methodist Church Preschool, Afterschool and Seasonal Summer Day Camp Programs Currently have openings for the upcoming 2014-2015 School Year. For more information please contact Shon Lee at 252-216-5380 or 473-2089 extension 26. Applications can be picked up in the church office from 9-5 Mon- Fri.
Posted August 10, 2014
---
Upcoming Youth Events
August 24th – Beach Night/Bonfire (Weather permitting) 5:00 – 8:00 pm.
AUGUST 29TH – 31ST CAMP WILLOW RUN YOUTH FALL RETREAT 
This will be a great time for fellowship, discipleship, and growth as a group as we study the Bible and have fun in a camp setting. There are 36 spots available, and the trip will be $40 per student. Register before August 15th in the church office by paying $40 and filling out the medical statement provided by the camp, as well as the "Mount Olivet Cove Youth Ministry Contact Information & Trip Permission" Form. There will be another meeting later in August for those students who are attending this trip. See Drew for more information.
Posted August 10, 2014