Register your child for Vacation Bible School!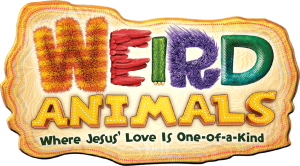 Welcome to Weird Animals: Where Jesus' love is one-of-a-kind!
Each day, kids participate in small groups, called Zoo Crews, and discover what Jesus' endless love means in their lives! Not only will they experience wild Bible adventures but they'll also watch for God in everyday life through something called God Sightings™. You and your kids will discover that God is active in our lives and that his fingerprints are everywhere!
Weird Animals is filled with unforgettable Bible-learning experiences kids will see, hear, touch, and even taste! All-new KidVid Cinema shares real stories of real kids who rely on Jesus' love to face life's challenges! Plus, team-building games, cool Bible songs, and tasty treats keep everyone on the move.
Dates: July 07, 2014 – July 11, 2014
Time: 9:00am – 12:00pm
Location: 300 Ananias Dare St PO Box 787, Manteo, NC, 27954
Registration Deadline: June 30, 2014
Contact Information: 252-473-2089 / olivetkids@mountolivetumc.org
Stop Hunger Now
Mount Olivet UMC is hosting a Stop Hunger Now packing event on Saturday April 26th starting at 10:00 am and ending at 4:00 pm. Cleanup begins after 4:00 pm and goes until completed. Everyone is invited to this fun, hands-on way to help those who are suffering from hunger.  A group of 40- 50 volunteers can package 10,000 meals in just two hours! Join us throughout the day as we pack bags and fellowship together.
In order to help Stop Hunger Now with their planning process please register here
For more information on Stop Hunger Now visit www.stophungernow.org or stop by the church office.
---
See what's going on at Mount Olivet and around our community