---
Upcoming Events and News at Mount Olivet UMC
What's Happening at Mount Olivet
Week of March 15 – 21, 2015
Mount Olivet Preschool 8:30 – 12:00 PM ~ Afterschool Program 3:00 – 5:30 PM
Sun March 22
7:30 AM Praise Team Warm Up & Prayer for Services
8:30 AM Early Worship
9:45 AM Sunday School
11:00 AM Traditional Service
4:00 PM Olivet Kids Music – Spend Awhile on the Nile Rehearsal
4:00 PM Youth Return from ATF
5:00 PM S.U.R.G.E.
7:00 PM Youth Praise Rehearsal
Mon March 23
6:30 AM Men's Reunion Group meets in Room "C"
7:00 PM Men's Bible Study
Tues March 24
2:45 PM Mission Possible Kids
3:00 PM Cove Open After School
7:00 PM Administrative Council
Wed March 25
10:00 AM Lenten Readings
5:30 PM Lenten Fellowship Meal
6:00 PM Prayer Meeting in Sanctuary
6:30 PM Cantata Rehearsal & Chancel Choir
Thurs March 26
7:00 AM Youth Breakfast
3:00 PM Cove Open After School
6:00 PM Resounding Praise Rehearsal
Fri March 27
Sat March 28
2:00 PM Rise Up with Jesus – Easter Event
Posted March 22, 2015
---
Easter Cantata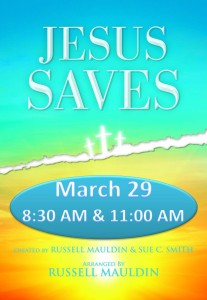 Our choir will be performing  Jesus Saves on March 29th at 8:30 AM & 11:00 AM. Everyone is invited to come and worship with us during this special time.
Posted March 19, 2015
---
Lenten Wednesdays February 25 – March 25

10:00 – 11:00 AM – Mount Olivet Sanctuary "Lenten Readings" – a time of quiet
"Very early in the morning, while it was still dark, Jesus got up, left the house and went off to a solitary place, where he prayed.  Mark 1:35
To pause in this Lenten season and listen for the voice of God speaking through Scripture, just may be a way to prepare our hearts for the journey from Ash Wednesday to Easter. Share this time to listen to scripture in a quiet, prayerful space. No preparation is needed, just come with an open heart. All are welcome.  If you have any questions please contact Rodney and Sarah Benson, 336-420-9227.
5:30 PM – Mount Olivet Fellowship Hall Lenten Soup & Sandwich Dinners
Hosted by different groups, these meals are a time to come together during the Lenten Season.  The first meal of on February 25th will be a part of our revival celebration and will be held at 5:30 PM, followed by revival.
Posted March 7, 2015
---
March Newsletter and Calendar are here!
Click here to view the newsletter for the month of March.
Posted March 7, 2015
---
2015 Mount Olivet Scholarship application
Click here to view.
Posted February 5, 2015
---